Computerized embroidery
From EduTech Wiki
1

Introduction
Computer-controlled embroidery also called machine embroidery is a kind of Computer-aided design and manufacturing (CAD/CAM). We shall introduce some (1) basic principles, (2) existing hardware and (3) existing software and also include some information about computer-controlled sewing. More technical information about computerized embroidery is available in other articles available indexed in the computerized embroidery category.
See also:
Professional Computerized embroidery machines are specialized machines that can create embroidery from computerized designs. Such machines exist for the home market, for the small independent professional and for mass production. Many home sewing machines can be turned into an embroidery machine by adding a hardware module. Many modern sewing machines (including the ones for the home market) can be computer-controlled and are also known as computerized sewing machines. Good sewing machines can sew, embroider and quilt. I.e. you get three machines in one.
Design software exists in various form, either as special-purpose tools for various design stages or as complete design suites. Embroidery designs can be stored in a multitude of proprietary file formats and are now often sold over the Internet. Free designs files are difficult to find, i.e. few are available under an open "source" licence. Converter software between various file formats exists, however depending on your sewing machine you will have to make an effort for finding the right tool.
Let's now have a look at hardware-software interaction. We probably can distinguish between the following kinds of models with respect to computer control of the embroidery machine:
computer-controlled (directly from a computer). These exist in industry.
computer-controlled (via file upload, i.e. specific firmware in the machine will read a proprietary CNC file and execute it). That's the solution existing in mid and high-end home machines (in the $500 to $10000 range). A good model (like a Swiss Bernina that can both sew and stitch will cost around CHF 3000.-). Entry-level computerized embroidery-only machines are not as frequent and a bit cheaper.
Computer-powered, i.e. the machine will have more than a single motor and stuff is synchronized with a computer instead of complex mechanics. Typically, low and mid-end home sewing machines. These machines cannot execute sewing or embroidery design files.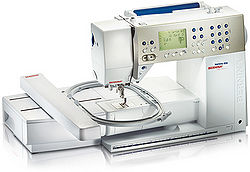 In computer-powered or computer-controlled home sewing machines, "the computer directly controls several different motors, which precisely move the needle bar, the tensioning discs, the feed dog and other elements in the machine. [...] The computer drives the motors at just the right speed to move the needle bar up and down and from side to side in a particular stitch pattern. Typically, the computer programs for different stitches are stored in removable memory disks or cartridges. The sewing-machine computer may also hook up to a PC in order to download patterns directly from the Internet. Some electronic sewing machines also have the ability to create complex embroidery patterns. These machines have a motorized work area that holds the fabric in place underneath the needle assembly. They also have a series of sensors that tell the computer how all of the machine components are positioned. [...] The sewer simply loads a pattern from memory or creates an original one, and the computer does almost everything else." Computerized Sewing Machines, retrieved 13:07, 15 April 2011 (CEST). With that kind of machines, a user can focus on design and the needs to learn how to interpret orders from machine like replacing the threads.
It can be argued that computer-controlled embroidery machines are older than computers. In the beginning of the 19th century, Jacquard invented looms controlled by a "chain of cards". However, embroidery machines controlled in real-time by a "puncher" through pantographs dominated the market in the 19th century and lasted until the 1970's we believe. Models made between the two WWs used punched tapes for control, i.e. software driven embroidery machines became important. In the 1980 the first computer-controlled machines for the home market appeared (Wikipedia, retrieved May 2018).
According to Wikipedia and other sources, the first modern day computer controlled sewing machine was built by Orisol in 1987 for making shoes, i.e. much later than embroidery machines.
More or less according to Wikipedia, the basic steps for creating an embroidery are as follows:
Get or create a digitized embroidery design file preferably in some kind of editable format. Typical formats are .emb, .exe, .dst, .cnd and .fdr.
Edit the design and/or combine with other designs (optional)
Translate to machine executable code, i.e. a stitch file (this is optional if the original format is already machine-readable). Typical formats are .art, .pes, .jef, .sew and .hus (see below)
Load the final design file into the embroidery machine
Stabilize the fabric and place it in the machine
Start and monitor the embroidery machine
Creating a digitized embroidery file itself includes at least two steps:
Create a drawing in a format that will remain editable. Some software also allows to import bitmap and vector formats which then can be translated (with some manual intervention).
Then digitize (translate, punch) to a (preferably) editable stitching format. A stitchable design includes embroidery-specific information like stitches and thread color. However good formats define stitching lines and fills (columns and areas) that are parameterized with stitching information such as the filling patterns, density, stitch density etc. Professional digitizing is difficult. Non-professional lower quality digitizing is fairly easy with good software (I learned in a few days...).
If needed, translate an editable stitch file to a machine-specific format.
Specialized low-end software does this in two steps. Get a drawing or picture. It first will be vectorized (you may have to assist with that as in any other bitmap tracer). You then can have it auto-digitized. Either in the middle of this process (after vectorizing, better) or after that (limited resizing), you then also can resize, combine, rotate, etc.
2

Consumer embroidery machines
Criteria for selecting an embroidery machine
Overall mechanical quality, in particular reliability and precision.
Hoop-size (frames for the embroidery area) is critical. 14x20 cm is expected for mid-level machine and many folks consider this as a must-have minimum. So-called Jumbo hoops (e.g. 40x26cm) exist on high end sewing/embroidery machines and multi-needle models. There also exist a third-party market for hoops. However, on some machines, jumbo hoops are difficult to use since designs must be split so that the hoop can be turned around. Finally, one also needs a tiny hoop (free arm hoop) for embroidering on tight places
Stitches / minute (SPM). Should be at least 500. Typical range is between 400 and 1000, e.g. a Elna 8300 can do 750/minute.
Built-in fonts, patterns and designs may make a difference to people who prefer designing on the machine (as opposed to using a software on PC).
Needle threader (helps putting the thread into the needle or does it without assistance)
Thread cutter
Support for standard USB flash drives (keys) and direct PC link
User interface quality and functionalities. It should allow for simple editing like translation, rotation, resizing, time/stitch counting, design tracing of a design.
Free (or cheap) software
Slide speed control
Automatic detection of fabric and thread tension regulation
Sensors that will tell you if something went wrong, in particular broken threads.
Dealer support and pricing
2.1

Kinds of machines
As of April 2011 (slightly revised in 2017). Information below can change rapidly and we may not update !
With respect to sewing and embroidery functionality we could distinguish four kinds of machines:
Sewing machines only (not discussed here)
Sewing machines with an embroidery module or combined sewing/embroidery machines
Single-needle embroidery (only) machines
Multi-needle embroidery machines
Entry and mid-level pure embroidery machines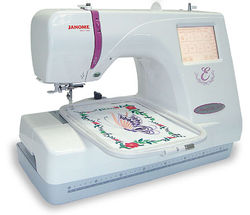 Mid-level machines work fine, but you have to change threads a lot and finishing (e.g. removing jump stitches) requires more work. Also, precision will not be the same. Entry-level machines usually have smaller stitching areas, smaller and simpler interfaces, and probably not as good mechanics.
A typical example (as of spring 2011) of a lower mid-level embroidery-only machine is the Brother Innov-is NV 750E. It costs about CHF 1500 or € 1100 (only about $800 in the US) and has a 18x13cm embroidery area (hoop). At the time of writing this model may probably offer the best feature for money ratio. I have no idea if stitching quality is good enough.
Another popular example is the Elna 8300 and it comes with a standard 12.6x11cm hoop and a larger hoop of 20x14 cm. The Janome MC 350 E is almost identical. Both cost between € 1400 and 1600, i.e. about US $2000. We paid our Elna, CHF 2300 in a Geneva shop and we didn't get any educational rebate...
There are also cheaper models, however you may not find these in some countries. Low-end machines are often not sold in sewing shops, but in supermarkets and other mass let-outs. Good models seem to be the Brother Innov-is 90E (about € 600), the Brother PE-770 (at $670 on sale) or the Janome MC200E ($900). Even cheaper would be a Brother SE400 sewing/embroidery machine ($400). If you are low on budget, look out for special deals for end of series models.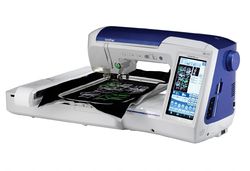 Most higher mid-level embroidery machines are also sewing machine (see next item). It seems that they don't offer better precision, but are more expensive because of the sewing functionality.
Lower and higher Mid-level sewing/embroidery machines
The choice for mid-level combi machines is enormous. There are differences in features and large differences in prices. I wonder, whether the difference in price doesn't reflect better mechanics but rather the better built-in LCD panel and software. Someone like me would not necessarily need that kind of on-board control, since we feel comfortable doing everything with a computer.
For example, a Brother sewing/embroidery Innov-is 1500 with a 26x16cm hoop and a large LCD costs about 2.499,00 €. The Bernina Aurora 450 sewing machine plus embroidery module costs about CHF 3500. The (oval) hoop size is 25.5x14.5cm and the model has a smaller LCD, but probably better mechanics. A Husqvarna Topaz 20 includes a large hoop of 36x20cm and costs about € 1800 and the Topaz 30 is about € 2200.
A higher mid-level machine would have a larger color screen, more stitches, more built-in software (both functionalities and designs). E.g. a Brother Innov-is 4000 or a Bernina Artista 640 with embroidery module would cost about CHF 6000.
High end sewing / embroidery machines
A high end-end sewing/embroidery machine like the Bernina 830 or the Brother Quattro (same as Innovis I in Europe?) are in the CHF 8-10000 price range, e.g. similar as entry-level multi-needle embroidery machines. Some brand's high-end machines are a bit cheaper. e.g. the Elna 9600 "Haute Couture" and the practically identical Janome 11000 are about € 5000. According to one sales person we interviewed, high end machines are not necessarily better in terms of precision than mid-end machines. They just add extra functionality.
These machines feature a very large screen and advanced on-screen editing. Mechanics might be better, but we don't know. The problem that one has to change threads remains. These are probably dream machines for combined sewing/embroidery, but not necessarily for just embroidery. Read on if you plan to get a dream machine.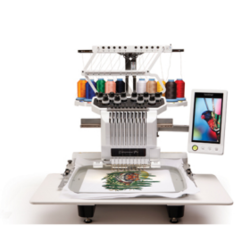 Entry level multi-needle embroidery machines
A true entry-level embroidery machine (i.e. a device that has four to six needles) costs around 9-12 K CHF. Street prices seem differ in different countries. E.g. (in 2012) the Brother PR-650 did cost Euros 7700 on amazon.de / CHF 11'000 in a Swiss shop / $7500 in the US. A Babylock professional Plus is about $ 10000 in the USA. A Korean SWF/MA-6 is also about $11000.
An 4-needle Elna 9900 is about € 6500.- and the almost identical 4-needle Janome MB-4 about € 5500 to 6000 or US$ 7000.
A ten needle Brother PR1050X costs about € 9500.- In that price range, that probably remains the machine to buy as of June 2017. In Switzerland list price is 12'000CH, some sell it for less, i.e 10'000. For education, prices still can be lower.
The Babylock Valiant BMV10 looks similar to the Brother PR-100x models.
A 16 needle Bernina E-16 (made in fact by MELCO) seems to be only available in the US and may cost the same as the equivalent MECLO Amaya EMT16 (See below) at around 17000 Euros.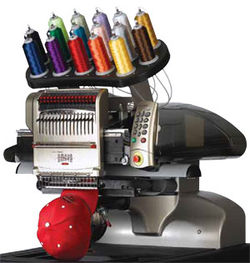 Industrial multi-needle embroidery machines
You then could look at simple industrial machines. These are faster, may have more needles and are of course more expensive. An entry level Tajima Neo II is about 14000$. A faster and (probably) more precise Swiss-owned and US-made older Melco Bravo costs CHF 11000 / US$ 9000. Prices for that type of machine seem to differ a lot from shop to shop and from country to country.
More recent and more advanced machines like the Melco EMT16 can do 1500 Stitches/minute and stitch on most materials. It has less buil-int editing i.e. design is entirely done with a computer. Maybe the simpler design makes these a bit more robust than the Brother PR 1050X who has more electronic bells and whistles, but I really do not know. This model has other advantages, e.g. the smallest arm, being able to print on 270 degrees, (optionally) more than one print head, etc. It also can be used in an industrial setting, e.g. several machines can run jobs from one PC.
2.2

Listing of embroidery consumer brands
I have no idea which types/brands are best, except that it is always better to buy from a shop nearby that also can repair a device. E.g. in Geneva I would not buy a Brother, since there is no authorized dealer. Please visit sewing / embroidery forums if you need advice from people who got experience. The following list includes most major brands (I believe) and some additional pointers. This section was probably last updated in 2012!
Baby Lock

owned by Tacony
babylock.com (official website)
Bernina

independant Swiss company Bernina, swiss made
Also owns the lower-end and cheaper not swiss-made Bernette brand
Bernina Sewing Machine (Wikipedia)
Bernina.com (official website)
mybernette.com (official website of the Bernette line)
Brother

Japanese company
has two lines, consumer and industrial
brother.com (official global website) - brother USA - Brothersewing CH ...
Bother also develops for Baby Lock
Elna

Swiss company (owned by Janome or strong partnership ?)
Husqvarna Viking

owned by SVP Worldwide
Husqvarnaviking.com (official website)
Janome

Japanese company, also seems to create models for various other brands
Janome (Wikipedia)
Janome.com (official website)
Kenmore

owned by Janome
Singer

owned by SVP Worldwide
Singer Corporation (Wikipedia)
singer.com (Official website)
Toyota

home-sewing.com (official website)
Some brands are owned by the same company. For example SVP owns Singer, Husqvarna and PFAFF and is the world's largest sewing machine company. Sometimes companies share development (for either the mechanical or electronic parts or both) or have an entire model made by another company. Difficult to know who exactly produces what...
2.3

Open source embroidery machines
Opensource embroidery machines do (as of 2015) not exist.
However, some people did build hardware, that you could reproduce. For example, look at this embroidery machine with XY belt and pinion drive built by someone in 2014.
Or this lego NXT controlled sewing machine with XY movement, [1] built in 2014.
While there is very little that prevents such a machine from being built, there simply hasn't been any real workable examples on par with some of the open source 3d printers or open source cnc machines. Both of which share considerable technical overlap with machine embroidery.
3

Software and formats for embroidery
Disclaimer: So far I didn't see any advanced software and only had a few hours of playtime with a simple digitizer and a few days with an advanced home user software. I may have to go over this again. The reason why I write down technical details about software is that I want be informed before I spend money on software that I won't use a lot anyhow, so it's got to be perfect - Daniel K. Schneider 22:38, 14 May 2011 (CEST).
3.1

Introduction
Roughly speaking, we can distinguish between several types of software, although sometimes the frontiers are blurred, so you also can consider the following as list of modules
Software to create designs for "manual" embroidery
Vectorizers can translate a bitmap image to vector formats. Vectorizers can be found in typical general purpose drawing software like Illustrator or Inkscape, but also in embroidery software.
Digitizers can translate a vector format to a stitch section representations or directly to stitches (not desirables). It usually also includes a vectorizer. This is mandatory to produce stitch files from images. Some digitizers work automatically (or almost) for both raster and vector images, others give a lot of control to the user. Most offer both possibilities.
Viewers allow to view files, useful for script generated formats for example)
Transformers can resize, rotate, (sometimes) change colors, i.e. do some lightweight global editing
Converters can convert from one format to another. They usually include a viewer and can do transformations.
Editors can draw designs in bother vector and embroidery object (stitch section format. Design parts are often first drawn in some ordinary vector format since it allow for easy manipulation. These then must be digitized. Editors then allow for direct drawing of higher-level embroidery objects that can be be parametrized, e.g. with a pattern. Finally, editors also should allow to edit individual stitches (for fine tuning).
Lettering programs include optimized "stitch" fonts. If you just use a digitizer to translate letters from a vector file you likely will get bad results, since the filling algorithm is not optimized for lettering.
Organizers help to organize designs on your hard disk.
Complete embroidery CAD Suites, support all the design stages. Often, the drawing module is based on existing high-end vector graphics software. E.g. Pulse's embroideryi2 is an add-on for either Illustrator or Corel Draw. Bernina's Embroidery software is based on Corel. High-end embroidery software suites should include all of the software types listed above.
Now, subjective (personal) opinions about the embroidery software market: It is very difficult to find out what software costs and - this is funny - where and how to buy. Some companies (like Bernina) seem to sell only through authorized resellers. Other companies have snotty sales people. E.g. email support from Wilcom wouldn't give a person from university of Geneva (who runs this wiki) the name of a Swiss dealer and even were implying that we were not smart enough learning their entry-level professional tool and showing our students how it works. Probably these guys never encountered any other drawing software or they might have a different idea of what "difficult" could mean. We regret to say so, but learning basic use of advanced embroidery software is easy for a technical person and takes no more than two weeks full time. Producing professional embroidery designs is more difficult and may take at least 7 years (but so does professional cooking, car racing or web page design ...)
Anyhow, we found out that most high-end consumer software is in the $1500 to $2000 range. Entry-level professional software also starts around $2000. I can understand that professional software costs 10'000 $ or more, but I have trouble understanding why what I consider mid-level prosumer software costs over $2000 since selling it cheaper probably would entice many more people to buy it. That being said, I do have the money to purchase, but I won't buy anything for which technical documentation can't be found (more about that a few lines down...). At least some companies, e.g. Sierra, offer extremely nice conditions to education.
I also noticed that too many embroidery websites do have HTML/JavaScript coding errors, e.g. some pages won't display on modern browsers. Not a good sign! Incompatibility and lagging behind technology is another problem. Often (according to forum complaints) does embroidery software have problems running under recent Windows versions. Some websites for high-end prosumer software (e.g. Bernina's and Wilcom's) seem to be well-made but do not provide any real feature list. On the opposite, Embird has a fairly ugly website, but it's fast, fully functional and even includes useful information. One could relate this site's web design philosophy to the facts that Embird software probably offers the best price/performance ratio besides (Stitch Era from Sierra) and that it is probably the most popular software suite for embroidery.
Most software includes machine-specific features. On older machines, one has to pay attention to connectivity. Some machine types use specially formatted memory cards or USB sticks (or some other weird specifics) and do require special software to write CNC files. Usually this type of software is offered for free (either when you buy the machine or for download). The same software then also can convert, resize, rotate and preview. See converting software below. A more "exotic" feature concerns support for jumbo-hoops, i.e. hoops for large designs that don't really fit onto the machine and that must be turned in the middle of the process. The software should allow splitting a design in a correct way and also insert a message to user so that he/she can rotate the hoop.
Important: If you plan buying any sort of design software, you should check if your type/brand is directly supported, i.e. if the software can export a design to model-specific file formats (like *.art, *.jef, *.pes, etc.). If it cannot, you then could use a converter, but this may be a lossy process and you will loose time. I couldn't find any serious information on how well various converters work. Therefore, I suggest finding out what other embroidery software is produced by the company providing the converter. E.g. Wilcom creates software for both Bernina and Janome. Therefore we might hypothesize that their free Truesizer converter program ought to be able to translate an .ART file (output of Bernina V6) to *.JEF (Elna/Janome machine format) without any mistakes.
We couldn't find any up-to-date (Spring 2011) list that includes any sort of serious comparison of embroidery software. The best one we found was Understanding Digitizing Software, made by Floriani (2008) and was just a feature comparison, not a serious evaluation. Add the various numerous obscure file formats and you find yourself in a software jungle that is hard to beat in terms of inaccessibility, obscurity and overblown prices.
Some might argue that there isn't any non-financial reason to buy anything else than brand-specific software since almost every brand does have a more or less high-end consumer design suite. Unfortunately, some brand-specific software can do more that others. E.g. from looking at the sales flyers, Bernina's V6 is much more powerful than Elna's V3 or Janome Pro. The latter do not integrate typical object-oriented vector drawing features if we understood right. For techies, vector graphics is simply a must have feature since we already are used to vector drawing. Of course, importing vector graphics from another program would be an option for experts in embroidery, but it is not for beginners since one has to round trip a lot between various stages of a part design.
In conclusion, in the absence of any serious information on embroidery software, we decided to invest our efforts in the free Stitch Era Universal. We then later bought the Pro "liberty" version. Since July 2013, there is no more free version. However, the formerly free version is now available under a 6-month inexpensive rent program. Retrospectively (fall 2011/fall 2013/winter 2018), we do believe that the Stich Era route is the way to go if you plan to learn with an ambitious state-of-the-art program. The Pro version only has few extra features, and it will load faster. The cheap for rent versions are limited to 12K or 40K stitches (the latter is quite a lot). Education gets very conditions. You only will have to manage vouchers and the fairly long download process.
Currently (fall 2013/winter 2018), no decent free software seems to exist.
3.2

Typical paradigm
While some more modern machines perform actions like dropping a sequin to be sewn in place, most modern embroidery consists is entirely of the same looped interlock stitch that have been the mainstay of sewing machines since their inception. Computerized embroidery formats ultimately contain instructions for the embroidery machine to perform. Move to a new location in two different directions, move but block the needle-bar (jump), cut the thread, drop the needle, switch to the next thread. These are all the actions that a sewing machine can take, usually in increments of 1/10th a millimeter. The goal then within design software is often how to pattern these stitches in useful ways for the person using the software. These patterns result in a lot of the underlying concepts within embroidery software. Stitches like zig-zag, satin, flat fill, bean stitch, and others are simply straight stitches in particular patterns, and the methods used to generate these are not explicit to the media.
Typically modern embroidery software uses vector shapes with fills applied to the objects. This allows the users for editing of the objects and thus the fills those objects create and adjustments to the density, direction, or any other property used to generate the resulting stitches. The advantages to this is that embroidery can be done quickly. A lot of stitches in recognizable patterns can be applied quickly with skilled users getting the results they expect. The software then stores the vector object and the fill properties to generate the underlying stitches. When the underlying stitches are edited by the user, regenerating the stitches would lose those modifications.
While vectors are a key aspect of this paradigm, it's not the case that you could go from vector to embroidery without some additional information about the type of fill being applied to that object. While software could take a vector as the answer of where to fill, they don't answer the question of how to fill. There's also a considerable amount of things that are technically permitted of a series of short line-segments (and thus embroidery) but are not easily accomplished through the dominant paradigm.
This seems to be the reason there are so many different formats, basically a different one for each type of embroidery. And different versions of formats add more such features to the software. If you wish to edit a design later, you need to have all the objects the file used to generate the stitches. Often software suites develop different methods for filling various objects or different features and these are unique to that particular brand. It's also the reason why, even when some formats have vector information (say PES files), these are not loaded by other software (eg. Wilcom Trusizer) in a manner that could be resized beyond about 10% without noticeable loss of coverage for the fill. Other software that can load a format, will often only load the actual stitches themselves (since that's what, all embroidery files must have to be sewn), which prevents any editing of the shapes used to generate them initially.
A straight stitch or running stitch is the typical name for a stitch that is generally not in the pattern of one of the other types of stitches. Technically all stitches are the same and they are all running stitches. They can't be anything else.
Fill stitches, also called tatami stitch are montone fills of particularly defined areas. These tend to be a sort of flood fill done with stitches. Most modern embroidery software executes this by using vector objects which then have a fill applied to them.
Mathematically the objects being filled must be monotone or broken into different parts. Monotone geometric objects can be filled with an unbroken scanline starting from the top to the bottom without changing directions. Since some objects being filled will lack this property, the objects are converted into monotone objects by clipping off the non-monotone parts. These are then underpathed (a straight stitch to the other merge/split node occurring such that it will be covered) and filled, and merged with the current fill. There is a lot of differences in how this algorithm is implemented between different software suites.
Sometimes even monotone objects are broken in this manner to allow for a start and stop location to be predefined. If you are filling a circle from the top to bottom, but want to start from the left, the algorithm will need to underpath to the top, then fill to the bottom. If an exit location is needed, it will stop at the level of the exit-node, underpath to the bottom, then fill up to the exit position.
Satin stitches are so-called because they have a soft satiny look. They are geometrically sweep fills of sweepable objects. A sweepable object is one that can be completely filled by a sweepline that transverses the object and is permitted to change directions. By definition if an object is sweepable it is monotone, as it does not need to change directions. Satin stitches are usually done with areas small enough that a single stitch can fill the objects.
This covers most of the conceptual design aspects within embroidery software. Some popular tools like Wilcom B, generally work by creating the vector object and fill direction and fill information at the same time. Which is a step away from the paradigm of vector + fill -> embroidery.
3.3

Features of home user embroidery software
Below is a provisional list of useful features. Certain items are missing, others will need explanation. Also, wording should be changed for some items once we get a better picture.
Range and target population

Type of program: Specific standalone program, modular software, or complete design suite
E.g. Computer novices, graphics or CAD savvy end-users, professional punchers

Format and machine support

Reading many embroidery design formats
Writing (some) embroidery design formats
Writing machine specific files.
Hoop support, i.e. show the hoop in the design area

Tracing and digitizing

Tracing of bitmap files

Color reduction / color thresholds
Despeckling
Smoothing with 2-3 parameters
Pixel thresholds

(Semi) Automatic digitizing of images directly into stitch sections
Import of vector file formats (conversion)

Format support, e.g. AI and SVG not just (simple-minded) WMF, EMF and EPS

Color merge and substitution (in the vectorized picture) See also: editing
Digitizing of vector elements (translation of one, some or all vectors to parametrizable stitch objects.

Vector graphics (see also fills and stitches)

2D primitives
Bezier drawing
Simple transforms (resize, move, rotate, flip, skew, etc.)
Smoothing, filling holes, etc.

Stitch sections (embroidery objects)

Quality of the digitizer, e.g. how well can the program translate drawing objects into stitch sections
Recalculation the number of (associated) stitches when a design is resized or otherwise changed
Parametrization of stitch sections

density
direction,
stitch type (line, zig-zag, pattern)
stitch lengths
underlay
adding/removing borders
thread color etc.
Pull/push compensation

Simple transforms (resize, move, rotate, flip, skew, etc.)
Grouping by color
Joining and splitting of designs (including text from lettering modules)
Change stitch order of various parts
Edit single stitches
Manage color palettes

Support for appliqués and patches (e.g. adding an outline)
Lettering

Built-in stitch-optimized fonts
Can true type fonts be digitized?
Monograms
Envelope changes like curving

Interface and utilities

How many steps can the undo option go back to?
Compensation for various textiles
Built-in reusable patterns of various sorts
Support for all major thread color palettes (different manufacturers)

Including information that then is save to stitch files !

Statistics (like print time, number of stitches, etc.)
Shortcuts for various processes
Batch converters
Stitch simulator, including 3D view showing stitches in relief
Pattern management
Does the software require a dongle. (I really hate these, since I don't use some software for month dongles have tendency to become lost and they can fall out of my backpack ...)
Debugging aid, e.g. does the digitizer allow to track which vector is being translated
3.4

Free digitizer and design tools
There exist virtually no totally free design + digitizing tools that are fully functional. Thredworks seems to be a fine and quite powerful editing tool for folks who would like to work fairly close to the stitch level. Stitch Era (the most modern and advanced system) did have some strings attached and is not longer free (except for education). SophieSew gets nice reviews but seems to crash a lot. Fortunately, for people like us who prefer to start from vector graphics, there is InkStitch (see the next item)
As of May 2018, the best bet is to work with Ink/Stitch: an Inkscape extension for machine embroidery design by Lex Neva. It allows creating embroidery files from SVG. The only caveat is that you will have to learn how to use Inkscape. This program takes some time to learn, but there are hundreds of tutorials since it is the only full strength free and open drawing program. Since InkStitch is fairly new, there are not many tutorials yet.
Thredworks is a digitizing and drawing program for embroidery machines. Recommended (if you can't finance a commercial product). One reason why I recommend this program is that this software somehow entices learning how embroidery and stitching works, i.e. although the program works with forms and auto-adapted stitches (as opposed to simple stitches), display and operations are fairly close to stitching level.

I installed this software on Win 7 64-bit. The program comes as a small zip archive and only needs to be dezipped in a directory and only includes 4 files, i.e. no installation is needed. Click on thre3.exe to run.
Design of the interface looks fairly "old-style", but the program is fully functional and includes many features. It's by no means just a stitch editor with some simple transformations. For example, it can do sophisticated fills of shapes and strokes (borders)! The program also includes a simple bitmap tracer for bmp files.
Download the Thred lessons from the download page and go at least through the first 7 lessons in order to create a simple design. Read them all ...
As of 2015, last version was released in 2006.
A linux version seems to be available, read Embroidery design on Linux now possible with Thred Source code might be here.
(aArtline is a free drawing program with good thred integration, the last version of which dates back to 2006. Its homepage aartline.com is now a webpage design demo)
Madpunch is a free program rumored to have similar features as some (earlier?) versions of an Embird suite, i.e. it includes editing, digitizing and lettering. Users have to change a key about every two weeks, probably to bring them to their web site. The site includes video (captivate) tutorials. It installed fine on Win 7 64-bit. Not tested for real. (2011). Website seems to be dead on March 2015.
SophieSew digitizing and editing of machine embroidery. Written and developed by Carlos Mandel, see his twitter updates. Also include some free designs. Installed and shortly tested on Win 7 (2011) and Win 8 (2015). According to various forum posts, this program is nice and usable, but it's in alpha stage and may crash or freeze - 5/2011). We suggest waiting for version 2.0 (September 2015: v2 was to be released in "the next few weeks" since at least June 2015. Last news is from 2013). The current version 1.3 hasn't been updated since 2007.
Embroidermodder. Free software tool originally allowed the user to add custom modifications to embroidery designs (read/write 5-6 formats). Started in 2004 by Mark Pontius, the project is currently led by Jonathan Greig and Josh Varga (as of March 2015) and it is more ambitious despite a failed Kickstarter campaign in 2014. The current 1.7 version allows (as before) to edit various types of design files and to create simple designs from scratch. A promised version 2.0 version includes many more features and might make it into a really usable program.

The 2.0 dev code (needs compiling) is available on Github
Compiled code is available from Source Forge
KXStitch aims to produce software to allow the creation and editing of cross stitch patterns for hand stitching. Runs under Linux/KDE. See kxstitch wiki
3.5

Commercial digitizing and design tools
Stitch Era by Sierra is advanced embroidery design software for which a free version existed, but no longer. There are limited versions for rent (between $2 and $12 / month).

Stitch Era Express and Universal are either distributed by Authorized Distributors (either via CD or online) or online. Both are fairly cheap and can be rented for 6 month or more. Installation and use requires a permanent Internet connection. Software contains advertising. Stitch count is limited to 12'000 respectively 40'000 stitches. Download can take a long time and you should consider a download site for your country (e.g. for France use Annika's site). You first have to install a downloader, then a download the > 400 MB installation files with the downloader program.
Notes taken a few years ago (outdated!) After going through the complicated finding-a-place-to-download, double download and authentication the free version ran on Win 7 64 bit. In 2012, it was the program to own and did recommend it to technical people despite its ads and its complicated installation/permanent renewal procedure. The program may have a learning curve that is too steep for people not familiar with complex design software like Illustrator, Flash or a CAD/CAM program.
Read Stitch Era embroidery software and associated tutorials (started on May 16 2011 and sometimes updated). Also do read the manual or go through the training videos. There is no way learning this software just by playing around.
The full commercial version is available from www.d-era.com or an authorized dealer, either for rent or as perpetual license.
Embird Embroidery Software sells several programs, A base program (Basic Embird) plus several plugins e.g. Embird Studio (required for digitizing). Can read/write many formats and supports many machine types. It comes in several components, e.g.:

Basic Embird Embroidery Software (basic editing, sizing, stitch editing, etc.). This $164 program must be acquired for other modules to run.
Studio (digitizing, lettering, auto-tracing, freehand, conversion of vector files into embroidery) is $150 (to digitize drawings with a low number of colors, the most common use case) + $90 (optional, to digitize photos) = $240. Demo version cannot save your work.
Font engine, $145
I.e. for less than $550 one gets a good package and it can be tried out before buying. In addition, the web site has real information (as opposed to fancy PDF files). This program seems to be fairly popular and seems to offer the best price/performance ratio. It's probably as powerful as many high-end consumer design suites.
There are many forums with support (google yourself). One example that includes a beginner's tutorial is Clipartopolis
SewArt Embroidery Auto-Digitizer by S&S Computing, is

" for converting clipart or other forms of raster and vector images into an embroidery file. Image processing tools and a step-by-step wizard are provided to produce an image suitable for yielding a high-quality embroidery stitch-out."

Free 30 day demo, only $75. (Needs the Microsoft C++ 2005 library, also available as download). Tested under Win 7 64bit. I found it very easy to learn the basics (about 30 minutes). Recommended. I managed to digitize and create a stitch file for a complex photo (including color reduction, pixel reduction, color merging, despeckling, etc.). Of course I can imagine other features it should have, but I like the price/performance ratio. - Daniel K. Schneider May 2011.
BuzzTools sells a series of design tools, e.g. design management software, Buzz-2-Stitches (digitizer, $300), BuzzEdit (editor, $190), Words to stitches, etc. These tools seem to be fairly popular and are reasonable priced. Trial versions are available.
Brother, also a maker of sewing machines sells PE_Design Basic (formerly 'PED Basic Embroidery Software', for simple downloading/editing) and PE-Design light (digitizing, letters, combining, etc. about 300 €). A higher-end product also exists (see below). Brother products enjoy a good reputation in forum messages and offer a good price/performance ratio as far as we can tell.
Stitch & Sew made by Compucon has several product levels: Designer (Standard Digitizing & Editing package), Editor (Lettering & Editing package), Embroidery Studio (digitizing & editing). The full package is called Embroidery Studio Plus. No idea how much it would cost. Demo versions are available, e.g. from central european distributor (teamhoko). Files are dated 2008. Several vendor links on the stitch & sew site are dead. Some point to local Brother dealers where no information can be found, i.e. Internet presence is messy. In addition to Stitch&Sew, Compucon sells EOS (Embroidery operating system), a high-end software.
Stitches in Motion has Sew Art (software for converting clip-art or other forms of raster and vector images into an embroidery file). It can output in PES or JEF. For other formats, you will have to use a conversion program.
Embroidery Software from Amazing Designs. Several software, e.g. Edit 'N Stitch (editor), Digitize 'N Stitch (digitizer), Personalize 'N Stitch (lettering and monograms). All around $200, the whole combo around $450 street price. Trial versions available. Also available from online shops like Amazon.
ApS-Ethos has several programs. The top-end Virtuoso Plus can edit, letter, digitize, import vector files, etc.
Stitch Era (from Sierra) is a modern looking consumer product that exists in several versions: Essentials, Lite, Liberty and Universal. Prices are from $400 to $1000. Universal used to be free (see above). Sierra also seems to have a more professional product line (see below). Their websites are quite complex and some pages don't fully work on modern browsers (FF4 or IE 9).
Designers Gallery seems to sell the same under a different packaging (not sure about this.)
Art and Stitch Standalone digitizing software for longarm quilters and machine embroiderers. Includes drawing, filling, importing vector graphics, punching. $ 870
3.6

High-end home user and entry-level industrial suites
It is difficult to find out who produces the software (as opposed to selling it), how much it costs, and (again) what the software can really do. Some websites are too heavy on useless pictures, light on information and difficult to navigate. In addition, more than one product may be advertised on totally different web sites which is quite confusing. And even when the products claim to be different they can be white labeled version of the same software. I find it interesting that at least three products are based on Corel Draw and I wonder if there is some common code base. Also, many modern programs can at least import from Corel or Illustrator by copy/pasting or some OLE mechanism.
Most sewing/embroidery machine makers sell their own custom software suite. Most of these packages also work with other brands, i.e. they can digitize into more than one format and write to several types of cards or otherwise communicate with a machine.
High-end "prosumers" (advanced home users) software superficially may look quite the same as entry-level professional software, but there seem to be the following differences:
Prosumer products may have additional features and tools for the home market, i.e. so-called short-cuts and other built-in features that will make design easy.
Entry-level industrial products may give the designer better control over stitching and control of stitching machines.
Good examples are Bernina embroidery software V6 made for the home market and Wilcom DecoStudio made as entry-level professional tool. Both are made by the same company and both are extensions of Corel Draw. Bernina's software is cheaper, is based on an older and weaker Corel version, but it does support other machine formats than their own. I.e. strictly from looking at specifications, one could qualify it as the advanced home user tool. However, we don't know how it would scale up against cheaper suites like Stitch Era and DrawWings (see above).
(Rather) brand specific for the home market
(some entries may not qualify as "high end" consumer products)
Bernina's Embroidery Software (en) based on Corel Draw is about $2000/€ 1600, but one can find it for less (€ 1400). The current embroidery software version 6 probably was developed together with Wilcom and should be quite similar as Deco Studio. Bernina sells other products: Software link (en/USA). See also the Swiss version of the software page (de/fr). In Switzerland, a littre price cut is offered to education.
Janome, a sewing machine maker has line of products known as Janome Digitizer Software Series with three software levels Jr, Pro and MB. There is no price list. Digitizer MB is about € 1000. Digitizer Pro and MB are probably powerful vectorizers/digitizers, but one can't draw (if I understand right). I.e. the program allows to import a bitmap or windows vector file and then "massage" it into a stitching design. Janome Customizer has very basic digitizing capability and is lenghty to use. It seems that Janome programs are made by Wilcom.
Elna has Digitizer EX V 3.0. This product looks more like mid-end software (e.g. one can't draw). Price is about € 1000. Probably the same as Janomes Digitizer Pro, since Janome and Elna have a strategic partnership (common machine models).
5D Embroidery Software Packages. This company sells two kinds of high-end packages, one for Husqvarna and one for Pfaff. Individual modules can be bought directly from 5D. No price list.

Husqvarna's packaging of the 5D suite for its Viking line, includes 5D™ Professional. This product includes eleven software modules, e.g. design creator (edit/fill/etc), editor, aligner, sketcher, cross stitcher, organizer. Eight of these can be bought separately. Did not see real technical information (i.e. power of the design tools).
Pfaff's 5D™ embroidery software version.
Drawstitch sells two software families:

DRAWings includes graphics design, digitizing, computerized quilting and textile printing. Cost is about $1800 / € 1300. There are other variants like Creative Drawings or Wings modular. Available through third-party dealers only. Seems to have a good performance/price ratio and comparable to Wilcom Decostudio. Needs a USB dongle (and I always loose these ...). In addition there may be OEM solutions. Maybe Artistic Suing Suite could be one.
The professional eXPerience include 4 different levels (price unknown and relationship to other Wings software is not clear.)
Rather general purpose industrial entry-level
DecoStudio. See also the (outdated) page at Corel. Decostudio integrates CorelDRAW® Graphics Suite X5 with Wilcom's stitch processor, lettering, monogramming and appliqué tools to create a complete graphics and embroidery software solution. Wilcom also has a product line called Embroidery Studio with several product levels. These are more sophisticated and more expensive (probably over € 10000).
Embroidery software by Pulse. Pulse creates various products like Tajima DG/ML, Tajima Librarian, Tajima Passport. High end and really expensive. For the home user, there is Embroidery i2, both for Corel and Illustrator, rumored to cost just a few thousand $.
Melco (D) has a line of products known under "Design Shop". See Melco USA: Lite, normal, Pro and Pro+. Melco produces embroidery machines and software prices are not directly communicated ....
Embroidery Office (EO11) made by Sierra includes: Art and Design; Design Administration; Production Organization; Machine Connectivity; Catalog Preparation and Spreading. Claims to be very high-end and easy to learn. No pricing information. Their web pages are full or errors and won't display well in FF4 and IE9 ... (on April 19, 2011). Sierra also makes the very popular Stitch Era software with the free Universal edition.
I-CLIQQ € 1900, is a suite with three levels that is marketed for professionals. Claims to in the same league as the multi-thousand competition. (Demo version available).
Floriani has a larger product line. Embroidery Suite Pro costs € 1600 and includes 8 products, e.g. editing, digitizing, borders, monograms, lettering, resizing. These also can be bought individually. The top-of the line product is € 5000.
McStich Professional software, fairly useless web site....
3.7

Tablet Apps and Speciality Service
As of 2017 there are, in addition to countless apps that simply attempt to sell pre-digitized embroidery, a number of apps for android and ios with the express purpose of embroidery.
3.7.1

Android
3.7.2

Ios
Drawing Snap produced by the Wings Systems, which also produces some desktop software. It does some very basic editing and allows you to buy additional modules to do more than basic things.
3.7.3

Specialty Services
PhotoEmbroidery takes uploaded photos, converts them into machine embroidery through a custom process and sells the machine embroidery files.
eStitch.com takes uploaded files and sell the end user a framed embroidered portrait.
Both services appear to be different than any traditional photo digitizing services which usually involves using software and an artist's skill to digitize the relevant elements of image. Neither service has software available or much in the way of detail.
3.8

Free converter tools and other utilities
Free converters/resizers/etc from commercial companies
I suggest to install the following four programs: Wilcom TrueSizer, Bernina Artlink, Pulse Ambassador and myEditor. Then pick the one that you like best. Also, each can do at least something that the others can't. Read on ...
WILCOM TrueSizer. Read, resize, rotate and convert many popular industrial and home expanded/condensed file formats. Can't write .ART (Bernina) but can write .JEF (Elna/Janome). The program is free , but registration is required. Tested under Windows 7 64 bit. The software and I managed to convert a file to *.jef. It can resize and rotate designs. Wilcom is one of the leading software companies in embroidery. Recommended.
Bernina Artlink, a free multi-purpose utility program form Bernina. Can resize, rotate 45 degrees, select stitch color, read/write many embroidery formats, display hoops for various types (also other brands), write to various hardware. I somehow got the German version, but there is also an English edition. Cannot save in *.jef (Elna/Janome). Recommended.
Pulse ambassador is quote:

"a free, easy to use software that allows you to change design formats, resize designs, change colors and more. Import/export to various popular formats"

. It can change colors but it cannot resize. It cannot save in *.art. This software includes an animation of the stitching process and probably shows more details than the others. Pulse is the maker of high-end prosumer and professional software (Tajima and Embroidery i2). Download is difficult to find and is here when last checked. Recommended.
MyEditor from Wings Systems is a free, Opens/saves to many different formats. Includes a complete stitch editor, scaling and rotation, array tool, etc. Can import/export to many formats (including *.jef). Recommended.
multi-converter from Stitch & Sew. Can read designs from manufacturer's cards to the hard disk and the other way round. Registration required. I Installed it on Win 7/64, but did not understand how I could convert files within my hard disk.
Artistic my editor free viewing and editing software: view and modify supported embroidery files and then re-save them in any of the available embroidery file formats. (not yet tested, may be the same product as MyEditor above).
Free online converters
SVG 2 embroidery Free online service that can convert SVG (strokes) to PCS. As cool as it can get. Since it only translates strokes, you do need to replace fills by lines, e.g. some zig-zag pattern. Otherwise just use this programs to draw line-based art.
Free opensource utility tools (converters, digitizers, etc.)
Some of these are available as plugins for graphics programs. Most programs are open source.
SVG2Embroidery Converter. Including six short tutorials to create stitch files in Inkscape. As close to stitch level as it can be (in particular, one needs to manually check that generated patterns have a density close to 4 or 5 stiches / mm).
apt-get install python-shapely
cp embroider.inx embroider.py PyEmb.py ~/.config/inkscape/extensions

In Inkscape, the extension is available in Extensions->Render->Embroider
Only works, if you create a drawing with filled regions that are converted to pathes and are not grouped. (So no grouping, no strokes, etc. !)
Result *.exp will sit in your home directory or some other place ...
I managed to create a stitched oval and display it with some *.exp viewer. - April 2011.
embroidery, an Inkscape extensions by Garfield Kass, based on Jon Howell, 2010 (above)
produces VP2 (Pfaff) files
Ink/Stitch: an Inkscape extension for machine embroidery design by Lex Neva. It allows creating embroidery files from SVG. As of May 2018, this is an active project.
See InkStitch
I tested this under Ubuntu 16x and Windows 10.
Joachims's freeware include Pesview 1.3.0, a Viewer/Conversion-Tool for PES/PEC/PCS/DST/SEW and EasyPEC for converting PES.x to PEC 1.0
PES-file thumbnailer (pes2png converter) by Linus Thorvald himself ! (for Linux, needs pnglib-devel and cairo-devel to comple) Read Embroidery.. gaah January 13, 2010. To install this under Linux (Unbuntu 10)
apt-get install libcairo-dev
apt-get install libpng-dev
git clone git://git.kernel.org/pub/scm/linux/kernel/git/torvalds/pesconvert.git
cd pesconvert
make
cp pesconvert /usr/local/bin

Embroidery Reader for PES (Brother)
Planned since 2009: The Brother Liberation Front announced working on and Inkscape and Gimp plugin named Yarnscape (seems dead as of 2015) and Crafty Gimp respectively. If this will happen, then Inkscape could become a free embroidery design tool.
LibEmbroidery One of the side projects of embroidermodder, is libembroidery which is the core reading and writing (converting) ability in a command line interface.
3.9

Commercial converters, resizers, etc.
(See also the free conversion tools above, there is probably no reason to buy one of these, unless you don't own any kind of embroidery software)
SewWhat! from Stitches in Motion. Can read most formats and write a lot of formats (but not .art). Between $50 and $65. Free trial versions.
StichBuddy converter, resizer, etc. For Mac OS X. Cheap (€ 40) and demo version is available.
Embrilliance. A (relatively) cheap multi-purpose tool for converting/merging/lettering etc. Supports most embroidery formats, but can't import "normal" 2D graphics. (Mac/PC)
3.10

Thread colors
Thread colors (not surprisingly) are not standardized. Each major thread company has its own with different gamuts, and different sales packs and additions and discontinuations etc. The biggest manufacturer is Madeira others include Janome, Robison-Anton, Isacord, Mettler, and Sulky. None of these will overlap their naming conventions. The only significant stabilizing force is Pantone™ which is a private company, well known and regarded throughout the garment and color industries. However, here, unlike with most of computerized embroidery questions about Color Distance (how similar will an average human eye see these particular colors) and the algorithms utilized in determining those are well established, and largely standardized with a rich firm scientific history. The best results being LAB-Delta E00, as well as progressively less powerful algorithms with notable speed advantages. The emphasis with thread colors is that they be consistent with themselves rather than consistent with threads offered by other companies or with the named gamuts released by Pantone (though many companies will release Pantone conversion charts which give the thread color to nearest Pantone color within some amount of error).
There are also a number of other considerable elements within the realm of thread, such as specialty threads like glow-in-the-dark, various metallics, color changing when exposed to sunlight, and considerations like the Matte finish on the thread. With companies like Madeira offering a popular "frosted matt" thread set which offer heavily reduced shine. Or companies noting which threads they have which are fire resistant.
There's also thread weight to consider which is namely how much does 1000 meters of the thread weigh, which taken as meaning how thin or thick is the thread. Standardly most thread used is 60wt.
Also, from experience most thread company data to establish some RGB values for the color of the thread is bad. Well understood properties like different lighting and different white balances can often greatly bias a color. To get the RGB value to a very precise degree (which I've had to do) the best method is buy thread charts from the company (with actual fabric swatches of the thread) and put them into a flatbed scanner which has a known and well established white balance and take the average color over many pixels within the scanned swatch. Which will work for anything without strong fluorescent properties. Usually for a lot of projects good enough colors are sufficient and in those cases the color charts from various sources may be perfectly acceptable. However, even the numbers the companies use internally are known to be quite flawed.
See:
Brand-specific
4

File formats
There are several kinds of formats, and each contains different abilities and features. Some formats do have different versions, with increased features.
4.1

Information that may be found
Stitch Information.

Direct commands go to x/y, add stitch, go to x/y, cut, change threads etc.
Explicit location of the points for the segment list.

Vector Information

Shape Data, Rectangle, Circle, Path etc.
How these shapes should be filled. For example:

Angle of the fill
Start and stop formation
Pattern for the needle impacts.
Randomization of edge.

Font Information

Text and font, how it should be applied.

Design information.

Design name.
Number of Stitches.
Number of jumps.
Size of embroidery.

Hoop Information.

Specific custom hoop information.

Thread Information.

Color data from a preselected list.
Custom color data for thread.
Thread Metadata, manufacturer, pantone approximate, etc.
Thread Width.

2D Bitmap information, simulated view of the sewout.

Bitmap representation for project.
Bitmap representation for each color.

Control information for the typical editor of that format.

Color of background.
Scaling information
4.2

Internal structure of some formats
.DST file, contains a header of 512 bytes which contains design information statistics. Then a series of direct commands. This is all that is required to run the machine.
.PES file, contains several different layers of information. After the header #PES00XX which determines the version of the file, it contains the position in the file containing the PEC block. The PEC block is information intended for the machine. This some information about the design, name, number of stitches, size, location of graphics information, followed by blanks equalling up to 512 bytes. And a series of direct commands for the design. This is followed by 1 bit graphic bitmaps. All of which are intended for the machine to run. Regardless of the version of the file. The program simply needs to read the location of the pec block, jump forward 512 bytes and read the direct commands. Or jump forward 22 bytes, read the graphics location, and then seek to that location and read the graphics to be displayed on the embroidery machine's screen. Different versions contain different information in the various blocks within the file that are jumped over. These include vector information and design specific instructions that are able to rebuild the stitch data from scratch. So an alteration can allow regeneration of the stitch data.
.EXP file, contains only direct commands.
.INF file, contains only color information like a thread chart.
.ART file, contains a Compound File Binary Format, of a series of files. They have different classes of file according to whether it contains the design information. Different files within the format contain the summary information, the Design Information, contents (the compressed stitch data, zlib 4 bytes in), the Design Icon, a bitmap of the what the design should look like. Each class denotes how much information is in the .ART file. So having the contents means it can sew, but without the design information, edits would only be possible at the stitch information. This is very similar to the .emb format and they share a common code base.
Embroidery files are used both for stitching and editing. They need to be read by the machine doing the embroidery to process the series of commands. Since most machine embroidery is rendered from shapes and fills applied to those shapes, saving only data needed to stitch would be lossy. So many formats have a hybrid of this and store easy to read stitch data and higher level objects sometimes protected with encryption and compressed (.hus, .art, .emb). With the higher level the embroidery program can reproduce the lower level stitch commands. For most programs that read this data, they often have their own higher level objects and can read only the stitch data from other formats. When they also write these formats, they very often produce the minimum acceptable version of the file that will not crash the program reading the file. So converting from Wilcom's emb to PES will produce a PES with only stitches even if the Wilcom had access to the higher level objects and the saved version of .pes also those forms available.
4.3

Kinds of available formats
All sorts of 2D bitmap and vector formats for the drawings, i.e. formats that are not specifically made for embroidery
Embroidery file formats that work on a range of machines and also can be used as exchange formats. These are sometimes called commercial formats.
Embroidery file formats that are mostly brand or even type specific
Both so-called commercial file formats and more brand-specific formats come in two forms: Some only have stitching information, others keep information that makes them easily editable. The latter could be called worker files.
It seems that there are about 30 different formats. It is not clear to me what different formats can do. Also, I don't know how formats are supported by various vendors. Some formats seem to be barely editable since they only contain stitching instructions like "go to x/y" and "add a stitch from x1/1y to x2/y2" or "change thread". Others may include precise information about the shape and kind of a design part and keep stitching information apart, i.e. an area is not just defined in terms of stitches. The latter are more easily editable. Other formats (like JEF) may keep just some information, e.g. colors.
It is sometimes difficult to find out what formats a specific machine from various Brands can read. E.g. Bernina's feature their own brand-specific editable *.art formats, but it seems that the high-end machines directly can read *.exp which is a commercial format, if I understood right. When I bought an Elna 8300, no information about formats was included in the documentation (or I couldn't find it) ...
To make the situation worse, some formats have different subtypes. E.g. the popular .PES comes in eight (actually it's no fewer than 12, but most settings in the program that edits them rather than important information) different versions :( - I once thought that the situation was really bad for video codecs, video containers or 3D vector formats, but embroidery beats anything else I am aware of in terms of obscurity and diversity.
Vendors include conversion software that can translate to their (and other's) machine readable CNC formats from a series of other low-level and also from more high-level formats. The most popular exchange formats seem to be DST and EXP, but these are not necessarily the best. As little as we know of today (after few hours spent on exploration) a good format (e.g. EMB) includes a vector description of each design part and attaches abstract stitching information to that object. This way it can be transformed without deforming stitches. Less powerful formats are directly stitch-based. The most popular rather machine-specific format seems to be *.pes (Brother) since it also includes worker information.
Embroidery file formats

| extension | Machine manufacturer | software range | Contents |
| --- | --- | --- | --- |
| ART | Bernina | brand-specific | worker + stitch |
| CND | Melco | professional programs | worker + stitch |
| CSD | Singer, POEM | brand-specific | |
| DST | Tajima | most programs | stitch + stops |
| DSG | Sierra | Stitch Era software | worker + stitch |
| EMB | Wilcom | most high-end programs | worker + stitch |
| EXP | Melco, Bernina (high-end models) | most programs | stitch |
| FDR | Barudan |  ? |  ? |
| HUS | Husqvarna Viking | brand-specific, many programs | stitch |
| JEF | Janome, Elna | brand-specific, many programs | stitch + color |
| PCQ,PCD,PCM, PCS | Pfaff | Brand-specific | stitch |
| PEC | Bernina ? | brand-specific | stitch + color |
| PES | Brother | popular, most programs | worker (?) + stitch + color |
| SEW | Janome, Elna, Kenmore | most programs | stitch |
| SHV | Husqvarna Viking | brand-specific | stitch |
| VIP | Pfaff (older), Husqvarna | brand-specific | stitch |
| VP3 | Pfaff (newer) | brand-specific | stitch |
| XXX | Singer, Compucon | brand-specific | stitch |
Other lists:
5

Links
5.1

General links
Sewing and embroidery websites (unsorted)
k2g2

"is an open platform that is spearheading the brains and crafts movement of the 21st century, taking a hacker's perspective on everything from handicraft to crafting machines"

. This website includes good "portals" for machine knitting and machine embroidery. Best resource for open source projects, but doesn't show much activity over the years.
Embroidery Machine Encyclopedia (Wiki, 148 articles as of May 2017). As of Jan 2018, the site is full of spam (>20'000 pages) but still includes the useful information.
Sewing.org has free sew, quilt and craft projects
Sewing & Craft Alliance provides educational information and creative resources to the sewing and crafting enthusiast
SewReview, includes a blog with entries on various topics plus buying guides and reviews
eHow includes entries about sewing, embroidery, etc.
rumblr includes a few entries about sewing etc.
The Embroiderers' Guild of America (EGA). A few interesting links.
patternreview Popular site for sharing patterns and advise (including computerized stuff)
Embroidery. Nice traditional embroidery website for junior stitchters, textile students and teachers.
In other languages
Blogs
Other links of links
Embroidermodder has some good links (including broken ones, last update was 2004)
5.2

Introductions
(Retrieved April 2011, unless otherwise stated)
Introductions to traditional embroidery
Embroidery (Wikipedia). Follow-up the various Wikipedia links at the bottom.
Introductions to computerized embroidery
Introductions to computerized sewing machine
Introductions to normal sewing machine
Specialized tutorials
5.3

Software links
(see our own links to software packages in the software section above)
Useful websites
Comparisons
The best table we found is Wikipedia's Comparison of embroidery software. However, it does not really choosing a good software.
A (good) 2013 comparison of software by Floriani (a software producer) is kept in the wayback machine
File formats
5.4

Hardware links
In other languages
Do it yourself
5.5

Free design repositories
There don't seem to be many truly free and easy to use websites. Most commercial web sites offer some free designs. In addition, some of the free open source or close source software packages include free designs (see above).
Thingiverse. Search for em broidery. As of 1/2018 only a few designs....
You could search for embroidery patterns on Flickr. Some are free (but you then need to digitize these or find another version)
5.6

Fablab work, open source, etc.
(more needed)
6

Bibliography and journals
Introductory books for machine embroidery
(I don't have any of these, and therefore can't recommend any - DKS June 2011)
Betty Barnden (Author) (2003). The Embroidery Stitch Bible, Krause Publications, ISBN 9780873495103.
Deb Menz (2004). Color Works, Interweave Press, ISBN 1931499470 (This book address color for crafters).
Deborah Jones, Machine Embroidery on Difficult Materials (Book & CD Rom), Krause Publications, ISBN 0896896544.
Jeanine Twigg (2001). Embroidery Machine Essentials: How to Stabilize, Hoop and Stitch Decorative Designs, Krause Publications, ISBN 9780873419994 (There are several companion books from the same author).
Linda Turner Griepentrog, Rebecca Kemp Brent (2006). Machine Embroidery Wild & Wacky, Krause Publications.
John Deer (2007)., Digitizing Made Easy: Create Custom Embroidery Designs Like a Pro, Krause Publications. ISBN 0896894924
Linda Miller (2010). Creative Machine Embroidery, A&C Black. ISBN 1408103982.
Van Holmes (2008). Encyclopedia of Machine Embroidery, Anova Batsford, ISBN 9781906388188.
Academic Journals (may contain articles about embroidery)
Trade journals