Citizen Sort
Jump to navigation
Jump to search
Cs Portal > List of citizen science infrastructures > Citizen Sort -(2013/11/04)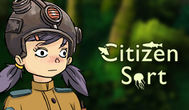 THIS PAGE DESCRIBE A CITIZEN SCIENCE INFRASTRUCTURE
Start date : 2012/10/16
Beta start date : N/A
End date :
⇳ Description Citizen Sort is a website that contains tools and games to classify various species of insects, animals, and plants. ➠ Purpose According to authors, the website is based upon two goals:
Help biologists and ecologists with scientific classification tasks.
Help information scientists and human-computer interaction researchers evaluate the role of motivation in citizen science.
COMMUNITY TOOLS
Communication: blog
Social Network: Twitter, Facebook
Main news site:
MEMBERS
Visibility of member profiles:: minimal
Member profile elements: pseudo, activity metrics
SOFTWARE
Uses Citizen science software:
Provides online tool to create applications: no
SUPPORT
Provides support team for development: no
Provides documentation for development and hosting: N/A
MAIN TEAM LOCATION
Syracuse University's School of Information Studies
♜ DEVELOPERS TEAM Official team page:
Leader: Kevin Crowston
Contact: socs@citizensort.org
+ Information about the team