Citizen Sort
Jump to navigation
Jump to search
The printable version is no longer supported and may have rendering errors. Please update your browser bookmarks and please use the default browser print function instead.
Cs Portal > List of citizen science infrastructures > Citizen Sort -(2013/11/04)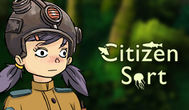 THIS PAGE DESCRIBE A CITIZEN SCIENCE INFRASTRUCTURE
Start date : 2012/10/16
Beta start date : N/A
End date :
⇳ Description Citizen Sort is a website that contains tools and games to classify various species of insects, animals, and plants. ➠ Purpose According to authors, the website is based upon two goals:
Help biologists and ecologists with scientific classification tasks.
Help information scientists and human-computer interaction researchers evaluate the role of motivation in citizen science.
COMMUNITY TOOLS
Communication: blog
Social Network: Twitter, Facebook
Main news site:
MEMBERS
Visibility of member profiles:: minimal
Member profile elements: pseudo, activity metrics
SOFTWARE
Uses Citizen science software:
Provides online tool to create applications: no
SUPPORT
Provides support team for development: no
Provides documentation for development and hosting: N/A
MAIN TEAM LOCATION
Syracuse University's School of Information Studies
♜ DEVELOPERS TEAM Official team page:
Leader: Kevin Crowston
Contact: socs@citizensort.org
+ Information about the team