CNC router
Jump to navigation
Jump to search
Introduction
According to Wikipedia, "A computer numerical control (CNC) router is a computer-controlled cutting machine related to the hand-held router used for cutting various hard materials, such as wood, composites, aluminium, steel, plastics, glass, and foams. CNC routers can perform the tasks of many carpentry shop machines such as the panel saw, the spindle moulder, and the boring machine. A CNC router is very similar in concept to a CNC machine milling machine. Instead of routing by hand, tool paths are controlled via computer numerical control (CNC). The CNC router is one of many kinds of tools that have CNC variants."
Other names: CNC milling machine, CNC routing machine, 3D carving machine.
New style open-source CNC Routers are cost-effective alternatives to laser cutters. Both types of machines have different affordances, but some tasks can be done on either one, e.g. cutting wood to create furniture and sculptures, or engravings. The precision and resolution of laser cutter is much higher, but a typical laser cutter cannot cut through heavy planks and do deep and large engravings. Also it cannot operate on 5 axes like some of the better routers can to (but these are also very expensive).
Alternatively, for some jobs, a laser cutter or a strong cutter (e.g. a a Zünd) can be used.
Products
The list of products below are by no means representative but allow to reader to understand what can be out there. Made in April 2019. We cut/paste some propaganda for DIY brands and it is up to the reader to evaluate. Professional CNC routers can have a very hefty price tag (in the 30-50K range).
Price range of reasonably sized machines, i.e. large desktops varies a lot and can be explained by various factors.
Scienci Labs
Scienci labs sell low cost open source CNC routing machines. The first model, Sienci Mill One Kit V3, costs between $539.00 CAD – $699.00 CAD.
The LongMill, as of April 2019, a kickstart project, will (probably) be the cheapest good CNC router allowing to create furniture. There will be 3 variants, from 12x12 to 30x30.
It requires:
Assembly of a few hours (you will have to buy a large MDF board). That keeps shipping price down
Buying a router (cutting machine), i.e. a Makita RT0700/RT0701 router for CHF 200.-
Resources: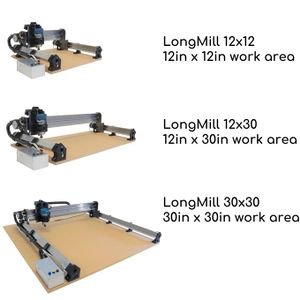 Shopbot
Shopbot sells tiny to very large CNC tools (including a five axis model that can carve true 3D objects). "hopBot Tools, Inc., designs, manufactures and distributes CNC (Computer Numerically Controlled) routers for milling, drilling, and cutting of wood, plastic, metals and other materials -- powerfully, precisely, and affordably." (About (retr. April 2019).
The ShopBot Desktop MAX is large desktop model and meant for a "variety of cutting, drilling, and carving operations on a variety of materials including: wood, MDF, plastics, foams, vinyl, and aluminum."
XCarve
XCarve sells what they call 3D carving machine. Around the products there is a nice community.
X-Carve sells three models, from $1600 to $2000 + shipping/taxes.
"X-Carve is a 3D carving machine that can carve designs out of a variety of materials: wood, plastics (e.g. acrylic and HDPE) and other materials. The versatility of machines like X-Carve (often called 3D carving machines, CNC milling machines, or CNC routing machines) is that they can be used to aid all kinds of projects and applications. Many people use X-Carve to make gifts for friends and family members, items to decorate their home, and products to sell. Some of the most common products our customers create are signs, trays, toys, guitars, home decor products, games, kitchen accessories, and furniture. You can browse ready-to-carve project designs in our Projects section." (What can I make on X-Carve?)
Links
Atfab. Models for furniture
Shelter 2.0. Using Digital Design To House Those In Need.