Ning social network platform: Difference between revisions
Jump to navigation
Jump to search
m

Line 25:
Line 25:





One advantage of Ning is also the fact that it is quite open for programmers (it has an API, and you also can modify php code).

One advantage of Ning is also the fact that it is quite open for programmers (it has an API, and you also can modify php code).






=== Ning social networking ===

=== Ning social networking ===
---
Revision as of 16:54, 11 January 2011
Definition
Ning is a (commercial) platform that allows the creation of social networks. Until spring 2010, there used to be a free version and Ning was popular in education. See the links section below for free alternatives.
"Ning is a platform for creating your own social networks. Our passion is putting new social networks in the hands of anyone with a good idea. With Ning, your social network can be anything and for anyone. You start by choosing a combination of features (videos, blogs, photos, forums, etc.) from an ever-growing list of options. Then customize how it looks, decide if it's public or private, and add your brand logo if you have one. People who join your network will automatically have a customizable profile page and will be able to message and friend each other." (About Ning, retrieved 20:34, 16 December 2007 (MET)).
Ning hopes to compete with large social sites like MySpace and Facebook, by appealing to users who want to create networks around specific interests or have limited technical skills. The unique feature of Ning is that anyone can create their own custom social network for a particular topic or need, catering to specific audiences.
[...]
(Ning (Wikipedia, retrieved 20:34, 16 December 2007 (MET)).
In the past (before April 2010) Ning used to have "two primary business models. One allows users to create a network for free, in exchange for the network hosting ads that Ning supplies. The other, their "Ning for Business" option, offers users a network where they control the ad content (or lack thereof), in exchange for a monthly fee. A few other premium services such as extra storage and bandwidth and non-Ning URLs are also available for additional monthly fees." (Ning (Wikipedia, retrieved 20:34, 16 December 2007 (MET)).
Currently (summer 2010), all Ning offers are commercial (after a 30 day trial period). Offers range from $3/month to $50/month. The $3 version should be ok for use by a single teacher with a class. Currently, there exist some free alternatives to Ning. However, no web 2.0 service is guaranteed to remain free or to last...
In education
Before going for a pay-for-use scheme, Ning used to be somewhat popular in education, since it does not have the unscholarly reputation of better known similar systems like FaceBooks. Also, a teacher may create his very own networks over which he has full control.
E.g. regarding social networking in physics, Steve Dickie (a schoolteacher) provides us with the following rationale (retrived dec 16 2007)
Engagement: Students today are online a lot. I want to leverage their interest in the internet and MySpace/Facebook. I'm hoping that by tying my class to a social network I may be able to excite them in ways I can't do in class.
Power: I will be encouraging them to share ideas and ask questions through the social network. We are building a community of learning here and we can only do that if they are helping each other. Every day a student (from each class) will post a summary of the notes/activities for the day. This should help while preparing for exams as well as aid those students who are absent.
Portfolios: Students can upload pictures and videos. I will be encouraging them to do this often. I'm not sure Ning is the right platform for a personal portfolio and I'm not sure I want to require a formal portfolio. That said, I will be asking students to document much of their work and to share that documentation through Ning.
One advantage of Ning is also the fact that it is quite open for programmers (it has an API, and you also can modify php code).
A short how
This text was originally part of creating websites with online services. Moved to this page, since Ning is no longer free - Daniel K. Schneider 16:54, 11 January 2011 (CET).
"Ning is the social platform for interests and passions online. [...] With over 1.3 million Ning social networks created and more than 30 million registered members, millions of people every day are coming together across Ning to explore and express their interests, discover new passions, and meet new people around shared pursuits." (About Ning, retrieved Aug 2009.
Typically, understanding Ning and finally creating your own web site may imply the following steps outlined in Manny Hernandez (2009) Ning for Dummies:
(1) Firstly explore existing networks:
E.g. learn how to join private networks and how manage your profile globally and for each network
Add photos, videos, and music files to existing networks
Write to your blob, discover the comment wall, rate items from members, moderate comments on your blog, and respond to events
Start a discussion, invite people to an event, or create a group
(2) Create your own network
Set up your network, decide if it should be public or private, research the competition, and find your niche
Choose a good Web address and learn to monitor traffic with Google Analytics
Give your main page character with custom widgets and personalized features
(3) Manage your network
Learn to manage forums, notes, and chats; groups and events; and multimedia
We shall start with step 2 here, but definitly think that exploring existing networks is a good idea.
The procedure aug 2009
Below we will summarize a few essential procedures. Make sure to consult the help if needed (there is a help button on the bottom of the screen)
Sign up and site creation
Go to http://ning.com/
Click on "Join now" and fill in the form
Then connect with your email and password
Alternatively, you also could start by filling in the form to create a social network and you will wind up first in the "join now" form.
Your sign-in home page and profile
Once you sign in you will find an empty home page that lets you manage social networks, create networks, be aware of events, change your general profile, etc.
Since may be member of various social networks (including the ones you created yourself) you should add some minimal general profiling information about yourself through the Profile or the Settings button. You then can fine tune this information for each network
... Anyhow, you may do this later
Create a social network
(1) You may create your own network from various places, e.g. from the ning.com home page, from your "home page" or from the "social networks page". Watch out for some Create your own social network button. You only need to enter two bits of information:
The name of the social network
A short name (without blanks) for the web address
(2) Your next task is to describe the social network:
(3) You then can launch the site or configure some more stuff, i.e. the general layout including basic tools and the theme (called "appearance"). But you can do this later
Configuring the network
Basically, all the tools are available through the Manage button. In particular, you may want to explore the "Appearance" and then the "Features" tool.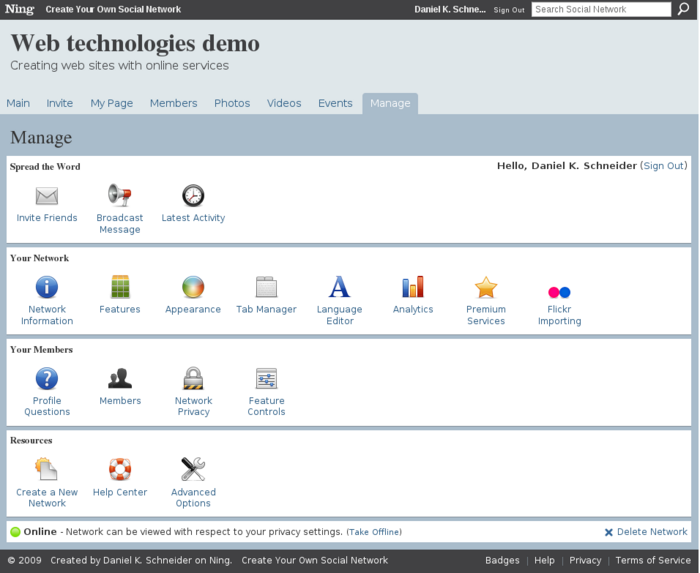 Premium services
You can get rid of Google ads, use your own domain name, get rid of the promotion links etc. by paying for these "features" (see the help and "premium services"). E.g. to remove the adds, you will have to pay $25/month (Aug 2009).
Examples and support
Help
Examples and other information
Links
Official Ning
Alternatives and replacements
Also read
About Ning
Examples - educators
Examples - teaching
Various web pages and blog entries