InkStitch - lettering
Jump to navigation
Jump to search
Introduction
Lettering is probably the most popular stitching activity for beginning home users. As of Spring 2019, Ink/Stich does include a simple digitized font available under lettering in the Ink/Stich menu.
Most embroidery machines do include some lettering facilities and all serious embroidery packages include a lettering module. As of Spring 2019, there is only one included lettering font, but that should change in the future.
In addition, InkStitch allows - like a professional embroidery program - creating letters from SVG fonts. See the next two articles, i.e. InkStitch - design letters and InkStitch - Geneva-simple typefaces
See also the InkStitch - embroidery patch tutorial. It explains how to create rounded text from either simple text with fills or from digitized fonts as described here.
The lettering module
For Ink/Stitch 1.25 (Mai 2019). Version 1.26 allows selecting from several fonts now and also transform the size (i.e. instructions below need some updating)
To create letters
Menu Extensions -> Ink/Stitch -> Lettering
Type your text in the popup menu
Apply and Quit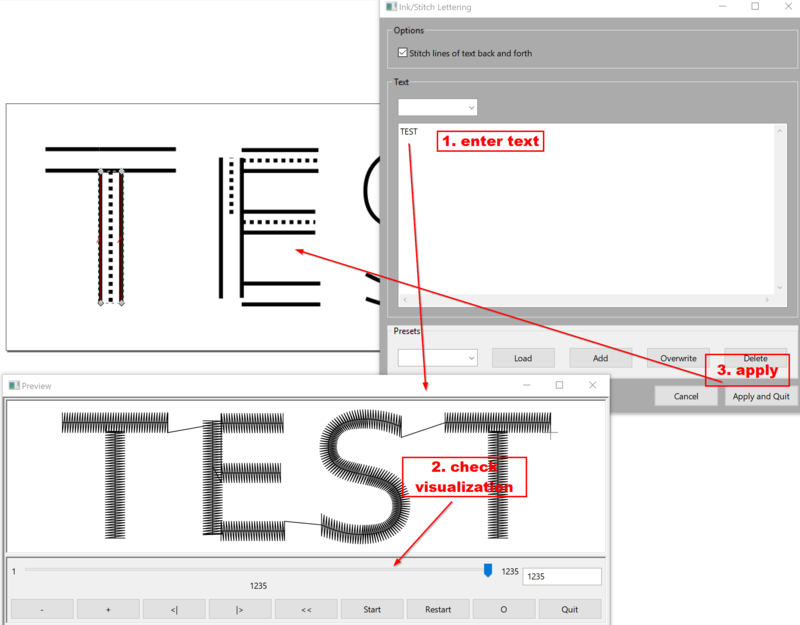 You now can see a group of letters. Each letter is also a group. Open Menu Objects -> Objects to check this.
Adjusting letter size
By default, the letters produced are rather big, i.e. a capital letter is about 20mm high (font size 79pt bold). You can probably safely scale this down by 50%, e.g. use a letter size of 10mm.
Menu Object->Transform
Scale tab
Tick Scale proportionally
Scale to 50%
Manipulate letters
Since the generated letters are just ordinary SVG objects with Ink/Stitch satin stitch annotations, you can do anything you like with these objects. E.g. manipulate individual letters by making them fatter or having them follow a curve. To do this, please have a look on the InkStitch - embroidery patch (section 4).